Malta Seasonal Work Visa Process: Non-EU nationals are permitted to work in Malta on a seasonal basis. Malta is a popular tourist destination in Europe, with millions of visitors each year. Summer is the busiest time for seasonal workers. This essay will walk you through the Malta Seasonal Work Visa Process 2024. Malta has also launched other Good programs to attract international employees and help the economy, such as Nomad residence and startup residency.
A seasonal worker's salary in Malta is between 1000 and 1200 Euros. You can earn up to 2000 Euros each month if you work extra. To work seasonally in Malta, you must apply for a Single Work permit, residence permission, and a National Long Stay Visa. All information, including the application process and requirements for the Malta Seasonal Work Visa Process 2024, is provided here.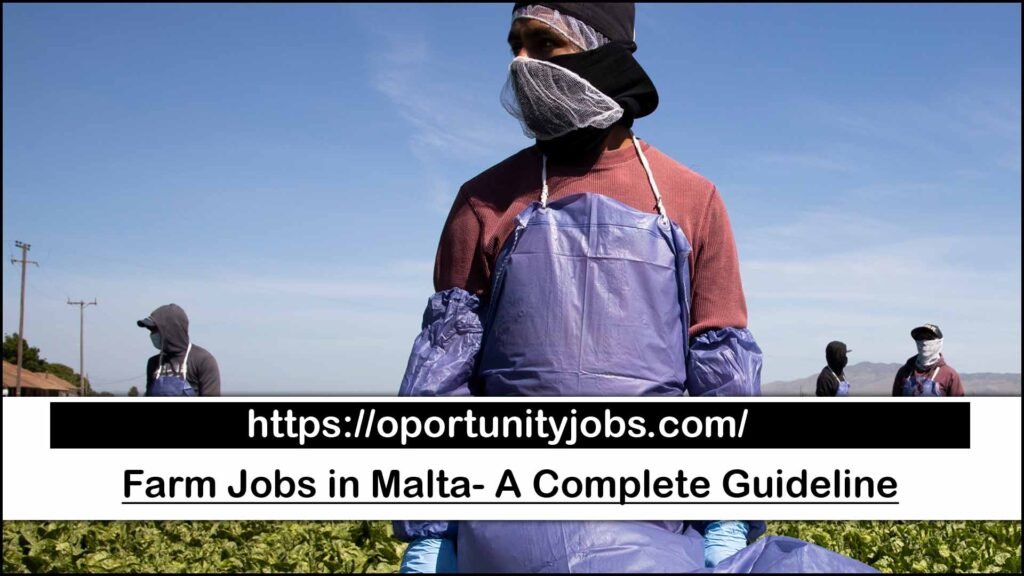 Details About Malta Seasonal Work Visa Process:
Job Country: Malta
Visa Type: National Long Stay Visa (Type D)
Permit Type: Single Work Permit
Who can Apply: Non-Europeans
What is the Identity Malta Agency?
The government agency in charge of issuing and monitoring Visa applications is the Identity Malta Agency (IMA).
Who Does Not Need a Visa?
Citizens of the EU/EEA do not require a work permit in Malta.
Required Permit for Malta Seasonal Work Visa?
Single Work Permit: If you plan on staying for more than 90 days, you must apply for a Single Work Permit.
If you want to work as a seasonal worker, you must apply for a Single Work visa with the Identity Malta Agency. (The application may also be submitted by the Maltese employer who has offered you a job).
Required Visa for Malta Work:
After you have obtained your work permit, you will apply for the Malta National Long Stay (D) Visa. This Visa is intended for those who intend to stay for more than 90 days.
How Long You Can Stay?
On a Seasonal Work Visa, an applicant can work and stay in Malta for nine months out of the year.
After this term has expired, the third-country national must depart Malta's territory.
Malta Seasonal Work Visa Cost:
The Malta Seasonal Work Permit application fee is:
Fee for a single work permit: €280.50
National Extended Stay (D) The visa fee is €100.
Processing Time for Malta Seasonal Work Visa:
A Malta single work permit normally takes 2-3 months to process.
Malta Seasonal Work Visa Requirements:
To obtain a Malta Single Work Permit for a Seasonal Work Visa, follow these steps:
A valid job offer from a Maltese business is required. (Job posting websites are listed below.)
a legal employment contract or a binding job offer from a company to work as a seasonal worker in Malta.
The location, nature, and length of employment.
Evidence of Accommodation or assurance from the employer that sufficient accommodations would be provided.
Your company is responsible for applying for the Work permit on your behalf.
Before traveling to Malta, you must apply for a Visa.
Benefits of Malta Seasonal Work Visa Process:
For Individuals:
Employment Possibilities: Work visas allow individuals to acquire exposure to new job markets, industries, and professional experiences by working in a foreign country.
Ability Improvement: Working abroad frequently requires acquiring new skills, adjusting to new work environments, and gaining exposure to a variety of cultural perspectives. This can improve a person's skill set and their future career prospects.
Increased Earnings: Many individuals choose to work abroad due to the possibility of earning more money than in their home countries. Pay scale disparities, currency exchange rates, and the demand for particular talents can all be contributing factors to this.
Cultural Knowledge: Working in a foreign country enables individuals to immerse themselves in a new culture, acquire new languages, and gain a greater appreciation for global diversity.
The value of networking: Working abroad affords the opportunity to establish international connections and develop a professional network that can be beneficial throughout one's career.
Persona Development: As individuals navigate new challenges and experiences, living and working in a foreign environment can foster personal development, resiliency, and adaptability.
Possibility of Permanency: Depending on their circumstances and the host country's immigration policies, some individuals on work visas may be eligible to petition for permanent residency or citizenship.
For Host Countries:
Abilities and Competence: Work visas enable host nations to attract skilled workers and specialists in disciplines where there may be personnel shortages. This may contribute to economic expansion and technological progress.
Economic Stimulus: Foreign workers with work visas frequently contribute to the local economy by purchasing products and services, paying taxes, and even launching their own businesses.
Diversity and Originality: By bringing together individuals with various perspectives, experiences, and ideas, a diverse workforce can foster innovation. This can enhance the creative and entrepreneurial environment of the host nation.
Workforce Flexibility: Work visas can provide a flexible labor force capable of filling seasonal, transient, or specialized positions without significantly impacting the domestic job market.
Cultural Interaction: The presence of foreign employees fosters cultural exchange, fostering mutual understanding and goodwill between the host country and the workers' home countries.
Investigation and Development: Skilled employees with work visas can contribute to research and development in a variety of industries, thereby fostering technological progress and advancements.
Adapting to Demographic Alterations: Work visas can help countries with aging populations and diminishing labor forces address labor shortages and sustain economic growth.
Related: Truck Drivers Jobs in Canada with Visa Sponsorship (Apply Online)
Malta Seasonal Work Visa Process:
Receive a Job Offer from a Maltese Employer
Apply for a Malta Single Work Permit online by clicking the link below:
Pay the Work Permit Application Fee.
If the work permit was granted.
Schedule an appointment with the Malta Embassy.
Submit the documents and pay the Malta National Visa application fee.
You can travel to Malta if your Visa is accepted.
Websites to Find Job Opportunities in Malta:
Useful Links:
Acceptance Rate of Malta Work Visa:
Malta is a developing EU country that has grown in popularity due to its residency options such as the Digital Nomad Visa and the Startup Visa Program. In 2023, 78% of applications were accepted.
The Residency program allows you to stay for two years with the option of extending it for three more. Then you can apply for Permanent Residency in Malta.
Conclusion:
Obtaining a seasonal work visa entails several significant stages and considerations. Prospective seasonal workers must follow a well-defined approach from initial investigation and knowledge of eligibility criteria to gathering essential documentation and completing a full application. It is critical to follow the precise standards established by the country or region giving the seasonal work opportunity.
Farm Jobs in Malta – A Complete Guideline to Malta Seasonal Work Visa Process